Networking, WiFi, Signal Distribution
The wiring systems in your home or business are carrying signals of a broader spectrum and greater complexity than ever before. Consisting primarily of coaxial cable and category 5 network cable, Satanta Electronics installs signal distribution systems using a central hub and various distribution modules for television, video, telephone, and computer network. This requires a wiring standard of two RG-6 coaxial cables and two category 5 network cables. As an upgrade, your home can be future-proofed with the addition of two fiber-optic cables in the bundle. With premium cable from Belden, Commscope, and Honeywell, we create an infrastructure in your home that will deliver the full spectrum of services. Whether your television services come from cable, off-air antenna, or satellite, our distribution systems will deliver HD quality throughout the house. Our network wiring will deliver the Internet at its best speed to all your devices, whether it comes over a DSL, cable, or fiber-optic modem. With a well-designed WiFi signal to complement the wired system, your devices will deliver all you expect with no bottlenecks.
In a typical home theater system today, the television, the stereo, the satellite or cable box and even the BlueRay player all expect a connection to the internet. A wired connection provides better speed and more reliable operation than WiFi can typically deliver.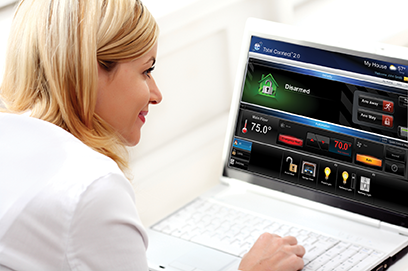 Full Spectrum Wireless Analysis
Satanta Electronics offers a "Full Spectrum Wireless Analysis" for your home or business. Many wireless protocols such as WiFi, BlueTooth, Cellular, ZWave, Zigbee and other proprietary formats are in common use today. We have the equipment and software required to perform an analysis of your site. This analysis allows us to recommend the changes in equipment and location that will optimize wireless performance for you.